The first day was a disaster
for us
! on Sunday, April 3rd, 1983 we arrived too late! by mid morning it was so busy that BBC Radio was announcing that they wouldn't let anyone else in.
My Mum and Dad were so dissapointed but kindly took my brother and I around the exhibition (which was open as normal and seemed totally separate from the convention). It was horrible being outside, hearing the crowds, explosions and applause... looking at the gates and wondering what was in there. But after sulking and eventually accepting we could'nt get in, we reluctantly turned our backs and set off home.
It was during this rather depressing journey back to Bristol that my Dad suggested that we all go to bed early and wake up at 6am and get there before everyone eles for the second day - you should have heard the screams of excitement!!! -my brother and I didn't even know there WAS a second day.
So on the Bank Holiday Monday, 4th of April 1983, we set off once again to Longleat. (and my parents were equally as excited as my brother and I)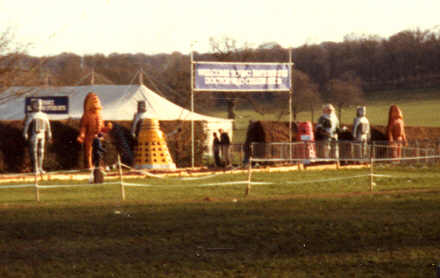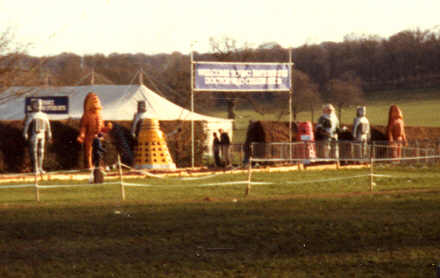 This time we arrived and it was deserted! it must have been about 7.30 am and we drove straight into the park and down the sweeping road to the house.
When we got out of the car the ground was covered in morning dew.
We were amazed by the scale of the figures (from Blackpool) and I had never seen anything quite so exciting!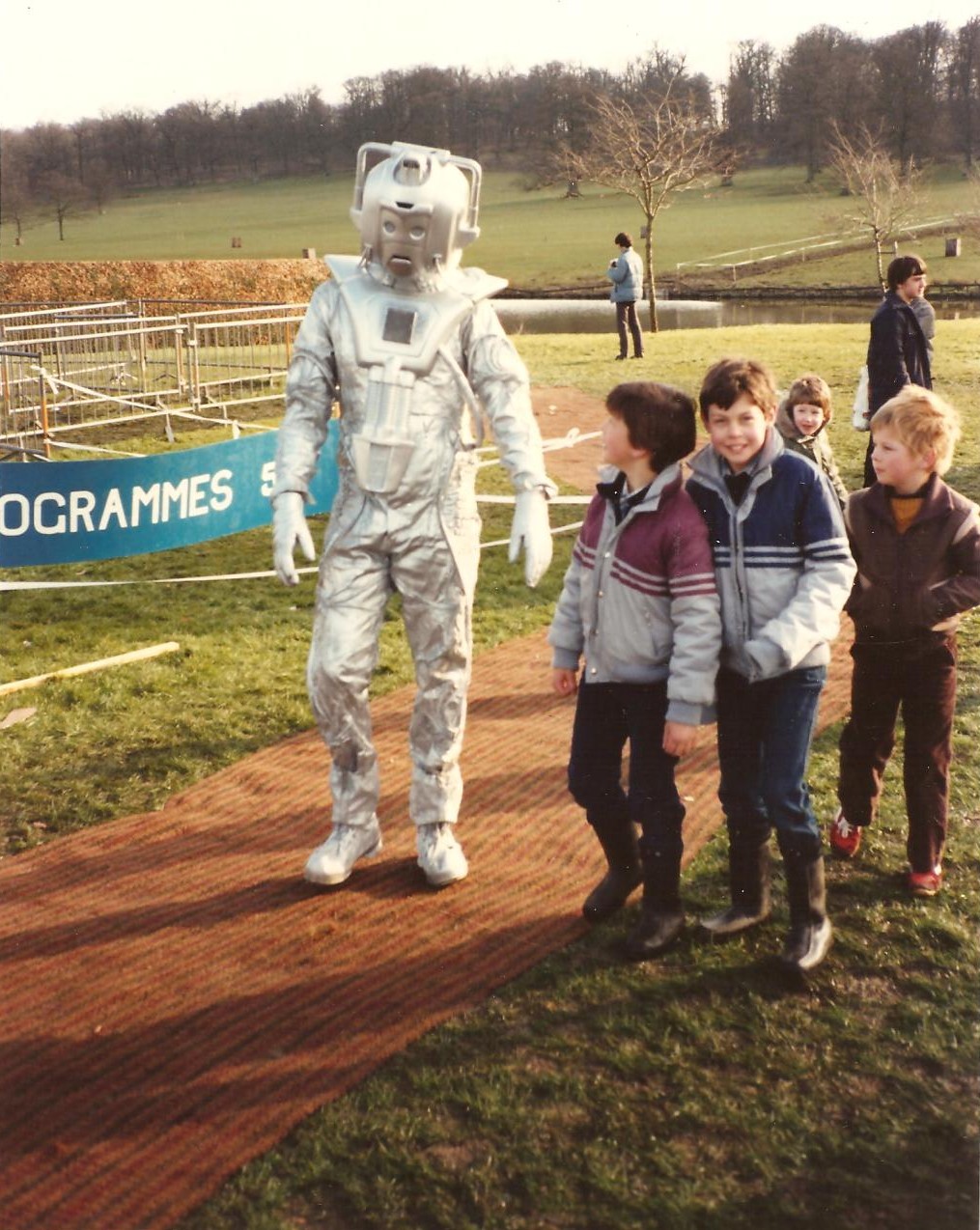 After half an hour or so, waiting in the area outside the gates, my parents joined the cue which had started to form at the ticket booth while my brother and I spotted a lone Cyberman out for his morning walk.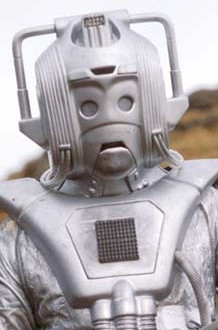 People started to arrive and the one or two families were quickly becoming twenty, thirty or more.
We were let through the gates into the 'Celebration area' and I could not believe my eyes when we entered the first marquis. THE TARDIS interior studio set!
I had always, always, ALWAYS wanted to see it, I had fantasized about visiting it in the BBC Television Centre, but THIS was better!
My parents told me that 'Mummy & Daddy'& my brother all needed the toilet and that I could either go with them or I was to stay 'PUT' and wait for them there. (They've SINCE told me that as it was very quiet they saw no danger in doing this) ...so off they went leaving me IN THE TARDIS clutching my new camera!
I stayed fixated at the console room.
I was puzzled by the fact that the time rotor (central column) looked very strange TALL and out of place. It had been completely removed from its hole in the console where it usually sat half submerged and placed on top of a grey hexagonal piece of wood thus exposing the entire thing to view, which I found disconcerting as I had never seen it like this before.
I have since been informed that this was because the 5 DR's story had just been filmed with an entirely new console and the workings were in THAT! - so they had to display it in this way because there was nothing to hold it in place.
By this time it was about 9:25am and I saw a very short lady walking towards me, clasping a polystyrene cup of coffee.
It was Janet Fielding! I didn't know her name at the time, but I did know it was TEGAN!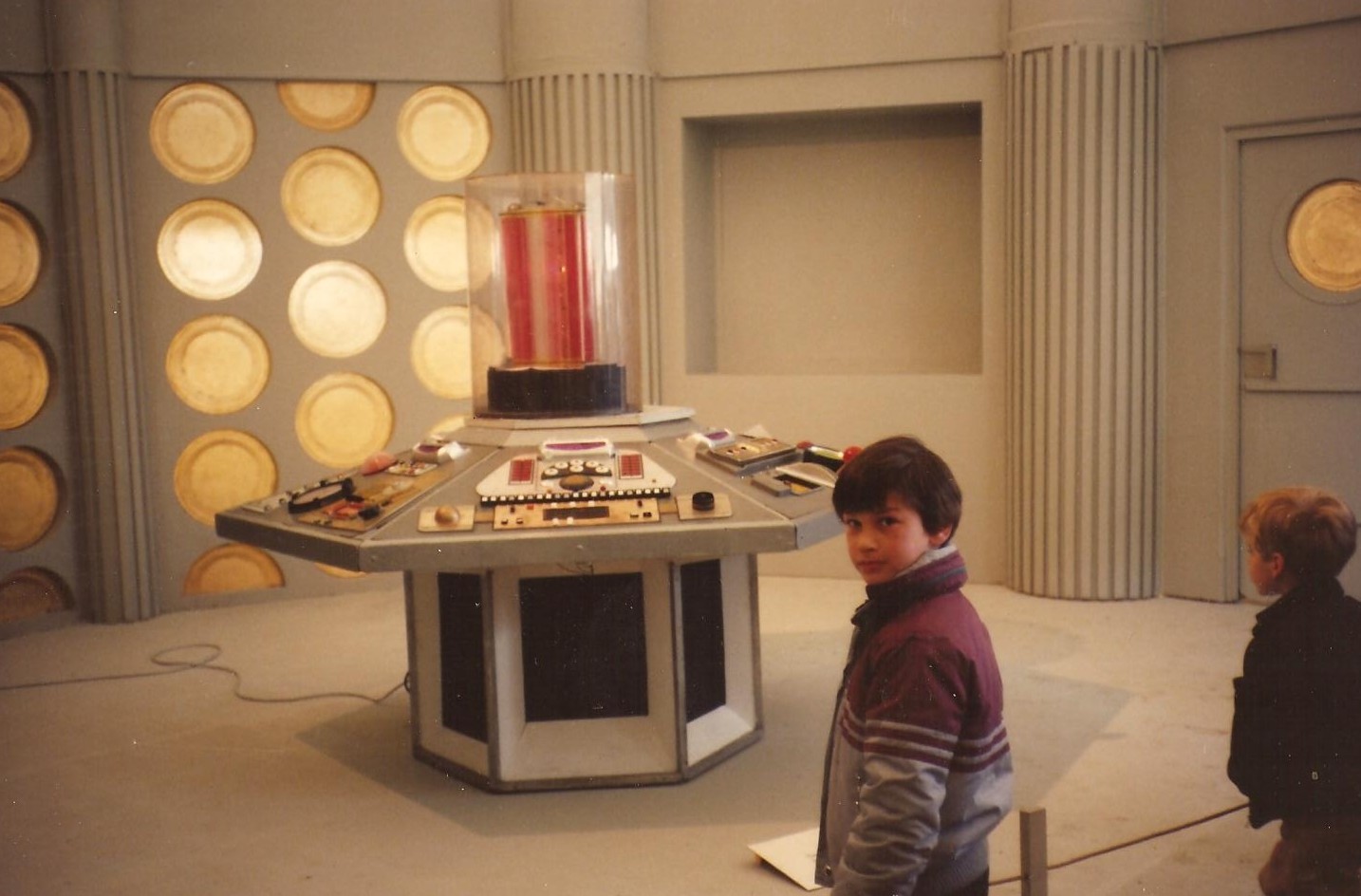 I couldn't believe how petit she was, I told her that I liked her very much and she thanked me.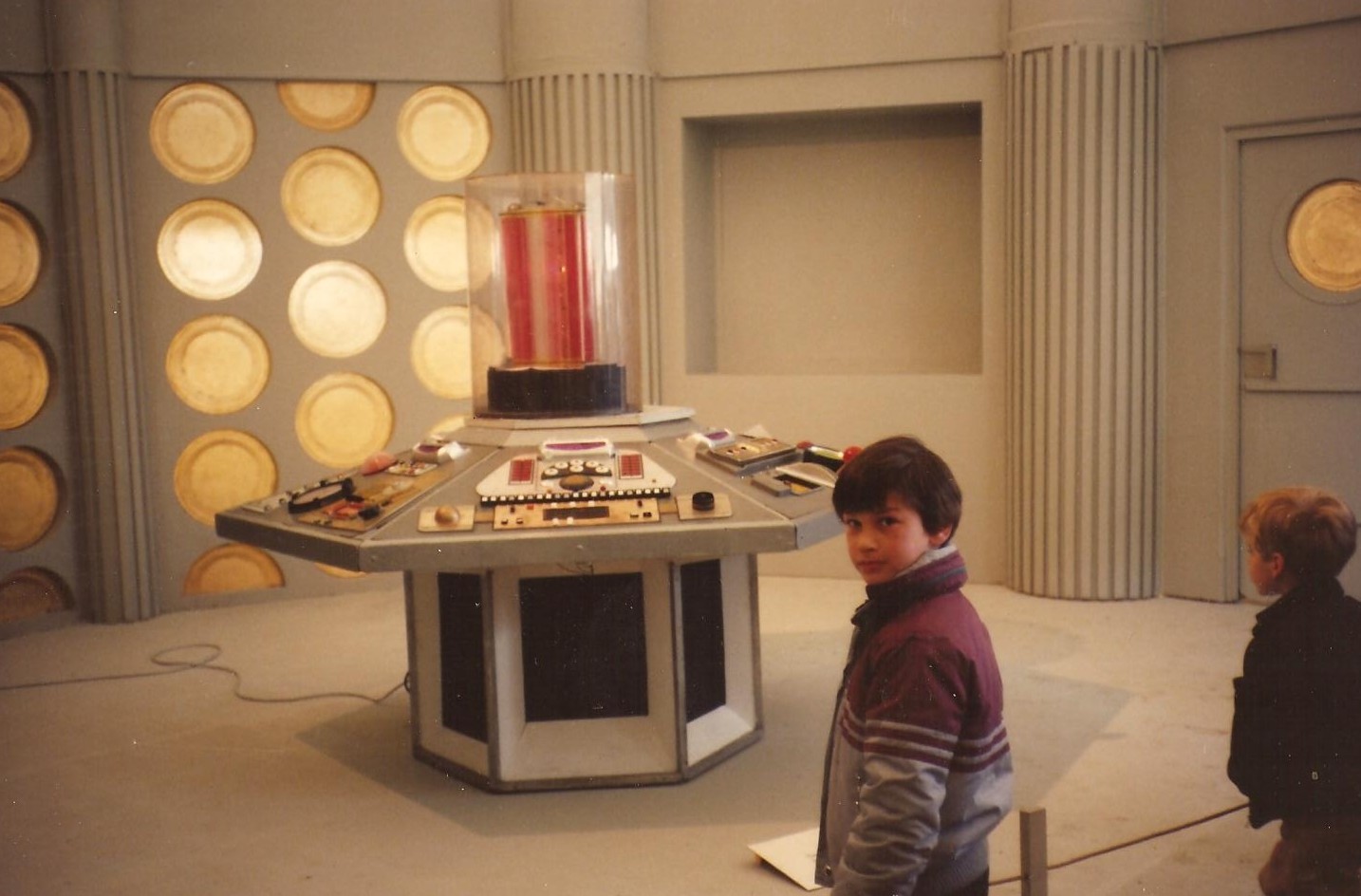 Its funny but as an 8 year old child, I simply didn't have the vocabulary or know how to say, "Im a fan of the show, and I really enjoy your performance as Tegan"... LOL
I remember seeing the other sets too (Gallifrey board room and Lord President Borusa's capitol game control chamber) - but they meant nothing to me as I hadn't seen The Five Doctors yet!
I do remember seeing the Ergon - which I loved and was very scared of when I first saw it on The Arc Of Infinity.
I got swept away within the many exhibits and my imagination was running wild, so I didn't remember to stay 'PUT', and the crowds started to come thick and fast... I got lost!
My Parents tell me that they had to go to a man in a booth making Tannoy announcements in the voice of K9 (turns out that this was actually the real thing John Leason was doing the job!) they asked him to put out a call for me as they simply couldn't find me and naturally began to panic at the worst thought.
My mother tells me that I was found staring at the Console room sometime later, I had been on my own for what seemed to be
hours
, but it didn't cross my mind that I may be in trouble or considered missing, I was in my own little world and loving every minute of it regularly returning to the Studio set tent. It is during this time that I remember seeing a group of boys (who looked a great deal older than myself) cross the rope and start to play with the controls on the console. One of them banged the console like the Doctor or Adric had done in the series. I thought that it was a good idea and my chance to see it up close and I also crossed the rope and had a look at the door lever (which fascinated me). It only took just one minute until we were all ushered away from the display and sternly told off, having left muddy footprints all over the previously clean grey floor. This moment was captured on film (Longleat 83 'THE GREATEST SHOW IN THE GALAXY')
After that, my mother showed me a rather odd turquoise/blue Dalek which has become known as 'the Tussaud's Dalek' I remember how its plunger hung delicately from the arm as if someone had been trying to get it off, and Im sure many exhibits were pilfered from for the sake of a souvenir or two.
We saw the special effects exhibits, which smelt of sulphur, chlorine, explosives fumes, latex and dry ice - you could have easily got high (or a head ache). I saw R2D2 and The Exploded Dalek - which was clearly having tentacles and parts of its outer body armour snapped off by fans.
The merchandise tent and the make up tent were of little interest to me, but I did enjoy seeing the costumes and props, models and guns that lay around and I noticed the cactus head of Tom Baker, which I had also seen in Madame Tussauds and later WOOKIE HOLE, but all I wanted to do was just BE in the Tardis, so my parents let me visit the same studio set tent again, and again, and again! ALL DAY!
Mid to late afternoon, we all went to The Tennis court to see The Tardis,
I didn't have my photo taken with it, as the cues were too long, this was also the case for the signings and Forums. But I enjoyed observing other people and just being in the presence of the things!
I was totally unaware of the props and costumes Auctions going on, but to this day Im glad I didn't because it would've upset me to helplessly watch people being able to buy a Dalek gun or a Kinda tribe necklace while I couldn't possibly.
We did eventually go out of the celebration area, and that is where we met Peter Davison, who came to the front of Longleat House to meet and greet the folk who couldn't get in. I remember giving him a photograph of myself in my Tardis control room, which I had made at home. It was built out of card board and bits of other toys and held together with sellotape and blue tack! I was convinced that it looked exactly like the actual thing! (what it is to have such an imagination) Peter exclaimed."Is this for me?" and was very touched saying that he would keep it, and thanked me kindly ruffling my hair and I remember feeling elated!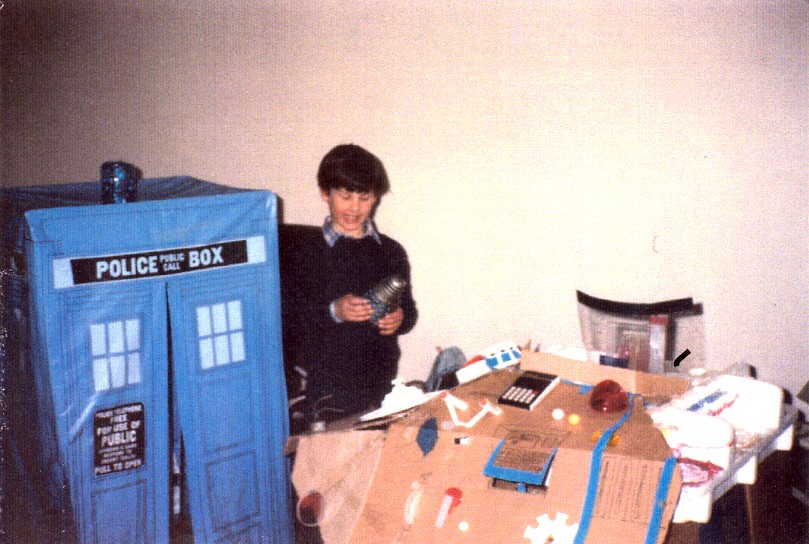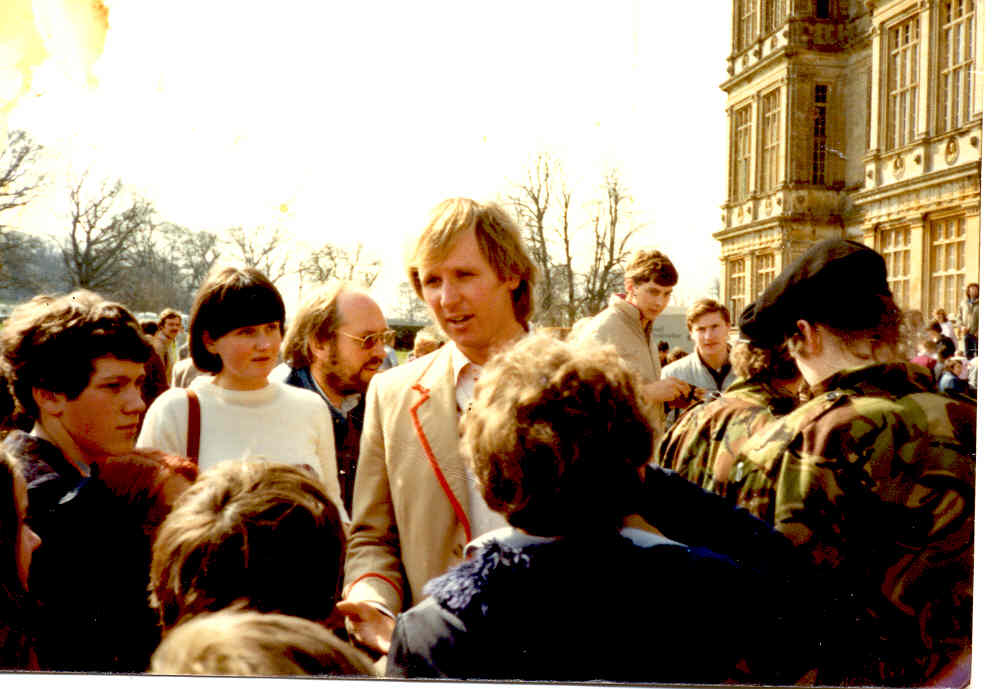 As a child I was blissfully unaware of the many crowds and aggravation and trouble with cues.
I was so small that I could easily slip through people and gain access anywhere, and nobody stopped me or accused me of jumping in line as I was a small child and alone for most of the day.
I must admit that my memory of the day is cloudy as it was 28 years ago to this week, but having just written this, Im sure that its pretty close!
MBH